Compiled with the input of the artist herself, the landmark publication Bridget Riley: The Complete Paintings brings together over 650 of Riley's works made on canvas, board, and the wall, as well as major large-scale commissions from the late 1940s to 2017.This ambitious and important publication reveals Riley's achievement in all its richness and rigour, surveyable in five extensive volumes containing over 850 high quality illustrations. Rarely seen works – including those in private collections – are now presented alongside more familiar works, providing an unprecedented view of the artist's monumental body
Edited by Robert Kudielka, Alexandra Tommasini and Natalia Naish, and benefitting from the remarkable guidance of the artist, the publication offers the first comprehensive overview of the artist's oeuvre to date, and includes many previously unpublished works. The first four volumes trace the development of Riley's work between 1959 and 2017 and are followed by a final volume that presents a special selection of early works. Each painting entry is illustrated with high quality reproductions, many of which have been newly commissioned, or sourced from the artist's rarely published archive. Notes on select works written in close consultation with the artist, an introductory text, an essay on studios, materials and methods, and an illustrated biography provide illuminating supporting material, whilst an engaging collection of photographs reveal Riley's working life.
Elegantly designed, each clothbound hardcover volume is printed in one of five colours based on the artist's early Egyptian Stripe paintings of the 1980s and the iconic 1961 painting Kiss is reproduced on the slipcase.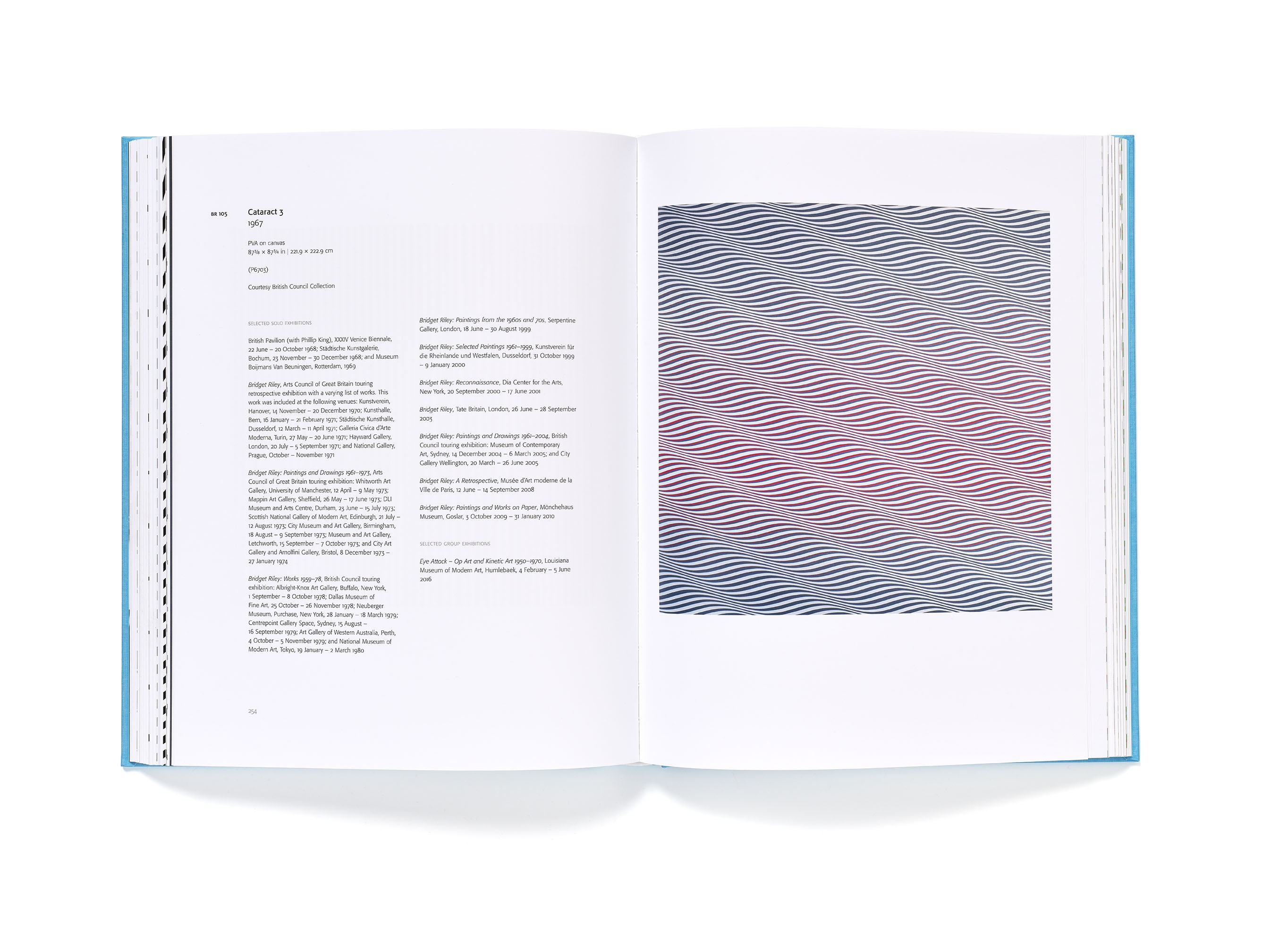 Art historian and critic Robert Kudielka is one of the leading experts on Bridget Riley's work. Since 1967 Kudielka has documented the artist's career progress and artistic development in an academic and personal manner, reflecting his long relationship with the artist. His detailed knowledge and unique insight into Riley's working methods and styles is unparalleled.
Since 2012 Bridget Riley's archivists Alexandra Tommasini (PhD) and Natalia Naish (MA) have worked closely with the artist and catalogued the artist's large number of preparatory studies. In 2016 they brought this expertise to the task of researching and assembling the wealth of archival material, images and data that make up this catalogue of complete paintings. Their overview and knowledge of Riley's artistic development is indispensable to the practical accomplishment of the project.
For the last decade book designer Tim Harvey has designed most of the important publications on Bridget Riley's work. His design is highly sympathetic to the artist's intentions and his understanding of the inherent problems in reproducing her colour paintings has set a standard that has rarely been matched.
Bridget Riley: The Complete Paintings is available online through Thames & Hudson.
ISBN: 978-0500970898
5 volumes, slipcased
Editors: Robert Kudielka with Alexandra Tommasini and Natalia Naish
Pages: 1,848
Dimensions: 330 × 254mm
Imprint: The Bridget Riley Art Foundation and Thames & Hudson Ltd